Description
The babes asked us sweetly to bring back our Rose Gold charm for that extra af sparkly lips. Worn by celebrities Kacey Spacey and Nicki Minaj. She's....so baeee!
What Comes Inside Your Glitter Lip Kit?

So Bae Cosmo Glitter, Gloss Bond & Dual Tip Applicator.


What to Expect?
To get your gorgeous, smudge proof pout, there are 3 or 4 steps depending on which you prefer. If you would like to see a video tutorial, please check out the video on this page or head over to SGCTV. 
How To Apply?
1. Start with dry lips or remove any excess oiliness that may be on your lips. 
You may opt to line your lips first or after, whichever is easiest for you. Lining your lips makes glitter lip application flawless. 
2. Apply your Gloss Bond one lip at a time. You'll know when you're ready when the Gloss Bond turns clear.
3. Apply your Cosmo-Glitter with the Dual Tip Applicator or your Finger or a Flat Brush. You may damped the sponge end of the Dual Tip Applicator; this allows more product to be picked up. Use the Flat end of the Dual Tip Applicator to clean up your edges. Follow the same steps for your other lip. 
4*. You may opt to pair our Matte Lippies from our Island Girl Collection or one you may have at home. Ensure your matte lip is dried before applying the Gloss Bond. Follow steps 2 and 3 after you've applied your Matte Lip. 
Ingredients:

Cosmo-Glitter (Cosmetic Grade Glitter):

Polyethylene terephthalate, Expoxy Copolymer, Aluminium CI & Pigment.

Gloss Bond: 

Hema acetoacetate, water, polyacrylic acid, methyl methacrylate propylene glycol, octane-1,2-diol, phenoxyethanol.
Customer Reviews
Write a Review
Ask a Question
03/20/2021
Dakota

United States
Such a pretty color!
This color is so pretty and soft! This product is amazing. Literally proof of everything it says!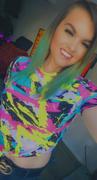 12/10/2020
Sarah W.

United States
Love It!
A gorgeous chrome pink you're sure to fall in love with just like I did!