Description
Here comes our favorite color for Spring and Summer. You will fall in love with this POPPIN' Orangesicle shade. 
It's so gorgeous, it will have your summer crush in love.
Pity girls that wear Peachy don't have time for just one summer love ;)
Now THATS peachy !
What Comes Inside Your Glitter Lip Kit?

Peachy Cosmo Glitter, Gloss Bond & Dual Tip Applicator.

What to Expect?
To get your gorgeous, smudge proof pout, there are 3 or 4 steps depending on which you prefer. If you would like to see a video tutorial, please check out the video on this page or head over to SGCTV. 
How To Apply?
1. Start with dry lips or remove any excess oiliness that may be on your lips. 
You may opt to line your lips first or after, whichever is easiest for you. Lining your lips makes glitter lip application flawless. 
2. Apply your Gloss Bond one lip at a time. You'll know when you're ready when the Gloss Bond turns clear.
3. Apply your Cosmo-Glitter with the Dual Tip Applicator or your Finger or a Flat Brush. You may damped the sponge end of the Dual Tip Applicator; this allows more product to be picked up. Use the Flat end of the Dual Tip Applicator to clean up your edges. Follow the same steps for your other lip. 
4*. You may opt to pair our Matte Lippies from our Island Girl Collection or one you may have at home. Ensure your matte lip is dried before applying the Gloss Bond. Follow steps 2 and 3 after you've applied your Matte Lip. 
Ingredients:

Cosmo-Glitter (Cosmetic Grade Glitter):

Polyethylene terephthalate, Expoxy Copolymer, Aluminium CI & Pigment.

Gloss Bond: 

Hema acetoacetate, water, polyacrylic acid, methyl methacrylate propylene glycol, octane-1,2-diol, phenoxyethanol.
Customer Reviews
Write a Review
Ask a Question
11/17/2020
Shanna. N
United States
To die for!
So I must start off by saying, I got my order at the expected time ✊ The packaging was so cute, felt like I was apart of some special secret society with the golden packaging and all. Inside had the cutest lil thank you note which had some beautiful women modeling the product. The product itself. IS TO DIE FOR. No regrets whatsoever in buying this. I bought Peachy and It's Cocoa(yet to try but I'm sure its just as beautiful). When I say STAND OUT. Stay Golden Cosmetics is def it! Got a lot love from random people when I went out, got a lot of hate from women who couldn't understand the miracle that was going on with my lips, lol at one point I saw a this chick side eyeing me and I screamed it's Stay Golden Cosmetics! She immediately smiled lol I gave her the answers she clearly was looking for. Def holy grail for me. I'm tryna cop em all✨ Thank you guys so much, beautiful beautiful product! Price is great too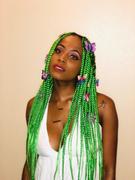 11/03/2020
Summer D.
United States
Lip kit peach
Great peels alittle after drinking alcohol and eating but holds up with everything else great and very pretty
So fun!
I'm not a club going girl at all, but I bought this just because I thought it looked so awesome. I really love it. It's so sparkly and doesn't feel real weighty or sticky at all once it's dry. So far it's been coffee proof and kiss proof. My only complaint is that this color, peachy, is a little more orange than I was expecting. I thought it would have some cooler pink tones. But hey, I'm only wearing it around the house because there's no good reason not to.
Peachalicious
So this is my second lip kit,and this one here is in the fye category. It's hard to describe all the colors in the glitter but this is pretty dark peach,orange,specs of gold,etc. On their FB page,i don't see alot of comments on this kit compared to others,butaybe the company should post a new video with this kit,and this one would be a big hit,promise ya. I can't wait til we're free from quarantine cause baaaaby, I already have the fits to rock with this kit.